Roof Tile Repairs and Restoration
Troubleshooting Tiled Roof Issues
Bedfords Roof Restoration have the skills to be able to both troubleshoot common problems inherent to Perth tile roofs and then provide the correct solutions for these problems.
Most house owners pay little attention ridge-cap repairs and maintenance.
Cement under ridge caps can become loose and deteriorate over the years and lead to the possibility of leaks or ridge caps actually being blown off in high wind situations.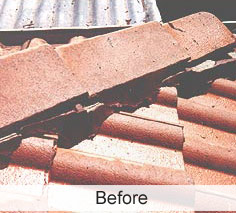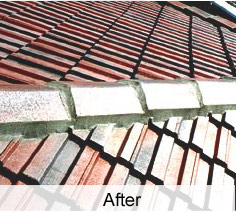 Depending on the condition of your ridge caps we will either repoint or rebed your ridge caps.
Re-pointing is when ridge caps are left on their original bed of cement. We apply a fresh coat of coloured cement to the outer surface of the old pointing.
Re-pointing is under-taken when the original ridge-cap cement is not too badly deteriorated but significant cracking has appeared in the surface of the pointing cement.
Re-bedding is needed if the ridge caps have been dislodged or if the cement bed has significantly deteriorated. All ridge caps are removed and are then re-layed on a fresh bed of cement.
Roof leaks & broken tiles
Perth tiled roofs develop roof leaks for a variety of reasons. Bedfords are experienced in accurately focusing on the cause of a leak, be it simply a broken tile or caused by a deficiency in the roofing structure or damaged flashings, gutters, ridge caps or valleys