Quality is a major focus of our operation and as we have diversified we have ensured that we have the right personnel and skills to maintain that quality across all areas. Contact us personally for further information on how we can put our expertise to work for you.
Roof Coats and Roof Restoration
Bedfords Roof Restoration has been applying A1 quality roof coats and restoration work to Perth roofs for over 20 years. Over this time, Tony Bedford has accumulated considerable knowledge of materials, latest technologies and new products used for roof coating applications. As one of Perth's most experienced roof coaters, Tony is well placed to provide the best possible roof coat and restoration for your home or commercial building.   READ MORE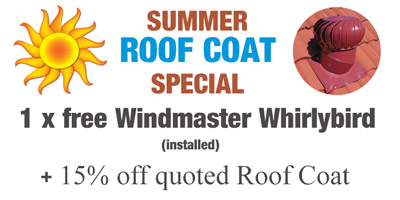 Our scope of roofing work includes
Commercial operations
Roof restoration and roof coats
Re-roofing in Colourbond or Zincalume
Gutters and down-pipes
Roof repairs and leak tracing
Roof plumbing
Tiled roof maintenance
Customised gutter guard
Whirly birds & skylights
Whirlybirds - Handling Perth's Climate Extremes
Bedfords use the original Edmonds whirlybird that comes with the 10 year Edmonds guarantee. Features of Edmonds whirly birds include
Stainless Steel roller bearings.
A colour range including Zincalume and the Colourbond range.
An extensive range of whirly birds and vents to handle air draw situations for both home and commercial structures.
Installing the Edmonds brand of whirlybird provides a better long term, reliable solution for efficient turnover of air in both domestic and commercial environments.